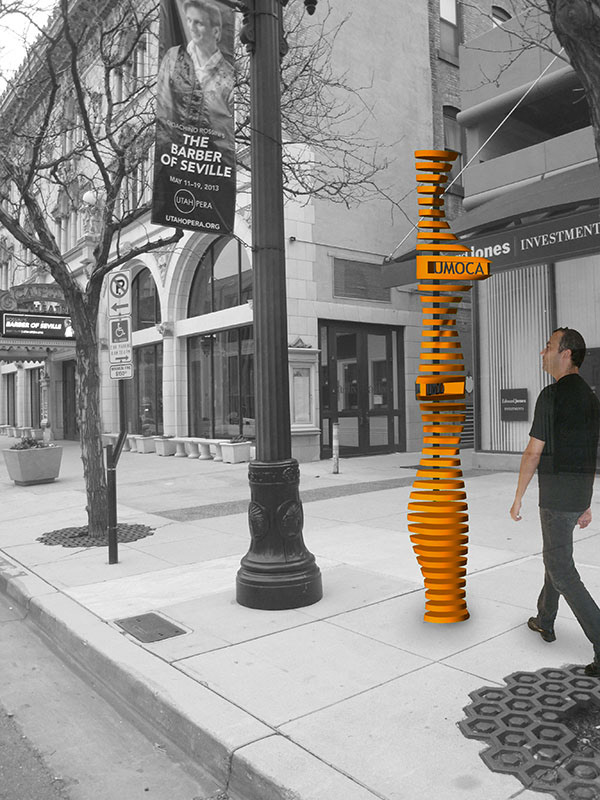 Alexandra worked on the inCADENCE urban design project during her time in graduate school in Salt Lake City, Utah. Together with Katie David and Liz Yonashiro, the team of three compiled a design competition entry and were featured in a gallery downtown Salt Lake City. 
inCADENCE was a design competition entry for the 69 79 urban space competition in Salt Lake City, Utah. Together with Liz Yonashiro and Katie David, the three of us put together a proposal as Masters in Architecture graduate students. While inCADENCE was not chosen as the final design, our work was displayed downtown Salt Lake City in the Spring of 2013.
inCADENCE is an architectural installation that intends to blend both people and buildings together in the heart of Salt Lake City. Through the concept of music, the installation is composed to provide simple needs such as seating, signage, direction, but most importantly identity. The fabricated undulating path ties the spaces between together, providing nodes of gathering in appropriate places. The use of light, integrated into the installation "ribs" adds a layer of dynamism; the lights are activated by people who "play" the static environment creating a safe and lively alleyway at night. The path is the harmony, the light is the melody, and the people are the musicians. Like a musical composition, each space in blocks 69 and 70 reacts to a greater harmonic order; crescendos where the path opens to a loud gathering space and diminuendos where the path winds through a narrow quiet space. 
Salt Lake City is constantly progressing forward, looking to identify the downtown as a place with cultural, retail, and creative attractions. inCADENCE addresses the alleyways and spaces in between near many of the city's cultural and performing arts centers while also providing elements such as bus stops, trashcans, and benches that can be implemented throughout Salt Lake. The rhythm of the installation "ribs" is arranged according to sound, light, and surrounding context. The path essentially provides a myriad of new spaces that allow all age groups and people to experience. Music connects us all.